Pinterest is a social networking site that has been around for a few years. It allows you to create and share photo collages, called "pinboards" with other users. A large part of Pinterest's appeal is it's visual display. Users can view, share and re-pin all their favourite images, whether that is wedding inspiration, decor ideas or cake decorating instructions (to name a few).
The great thing about Pinterest that separates it from Instagram is that it allows you to curate specific images that can then be collated as a board and shared with other users. As a result Pinterest is a great marketing tool for Event Planners. Here are a few tips on how you can use Pinterest to better market and promote your event planning services.
Create a Pinterest profile that is consistent with your branding and showcases your business.

Start Pinning!

As an event planner you can start by sharing content from your own events for visual inspiration, you can also source pins from other users and create pinboards that others can view and follow.

Try to create pinboards with interesting and descriptive names.

Always include a description with your pins.

Make your descriptions clear and ensure that you include your company information. Remember that these pins can end up being shared multiple times. For example, the picture below was one I snapped in the kitchen during plating for a fundraising gala I organized.

A poorly written pin description for this photo would be: "Pear Salad at an event"
A good pin description would be: "Arugula, pear and beet salad at a fundraising gala for [include client name if appropriate]. Event planned and organized by The Event Certificate. www.eventcertificate.com"

Be creative!

Event planning is an interesting field, be sure to share not only the end product of your planning but also the process. For example share a pin of your venue before it is decorated as well as one after it is transformed. You can also create an sample storyboard as you would for a client so potential customers can experience your client proposal process should they hire you.

Create inspirational boards that are geared towards your clients.

If you are a wedding planner whose brides often struggle with finding unique gifts for their bridesmaids, then create a pinboard of unique gift ideas to inspire them.

Pin your blog posts!

This is a great way of sharing your current website content and getting additional visitors to your website.

Comment on other users pins.

You can use this as an opportunity to meet and connect with other users and also promote your profile and company.

Optimize your webpage for Pinterest sharing by using images in your blog posts that can be shared on Pinterest, the better the picture the more it will get pinned.

Protect your content. Like many creative professionals, event planners are often concerned that their work will be shared without credit.

To prevent others from using your photos as their own consider adding a watermark or text with your company information. This will protect your images and also provide additional exposure each time your photo is re-pinned.

Keep it fun and do not focus your pins purely on promoting your business or services.

Is there a holiday coming up? Create a fun pinboard around that holiday that other users ca enjoy and be inspired by.

Finally, let your followers and customers know that you are using Pinterest.

Add a "Follow me on Pinterest button" to your website, share it on your other social media accounts and even add it to your business cards.
Get our FREE TIP SHEET on the most common do's and don'ts of Pinterest that can improve your business.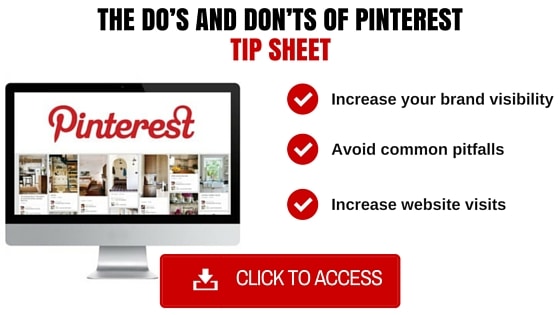 Not sure if you can implement all of these tips to improve your business? Not to worry we have partnered with Melanie Duncan to bring you her in-depth course on The Power of Pinning. This course is a 100% online training program that will take you step-by-step through the process of getting more online clients using Pinterest.