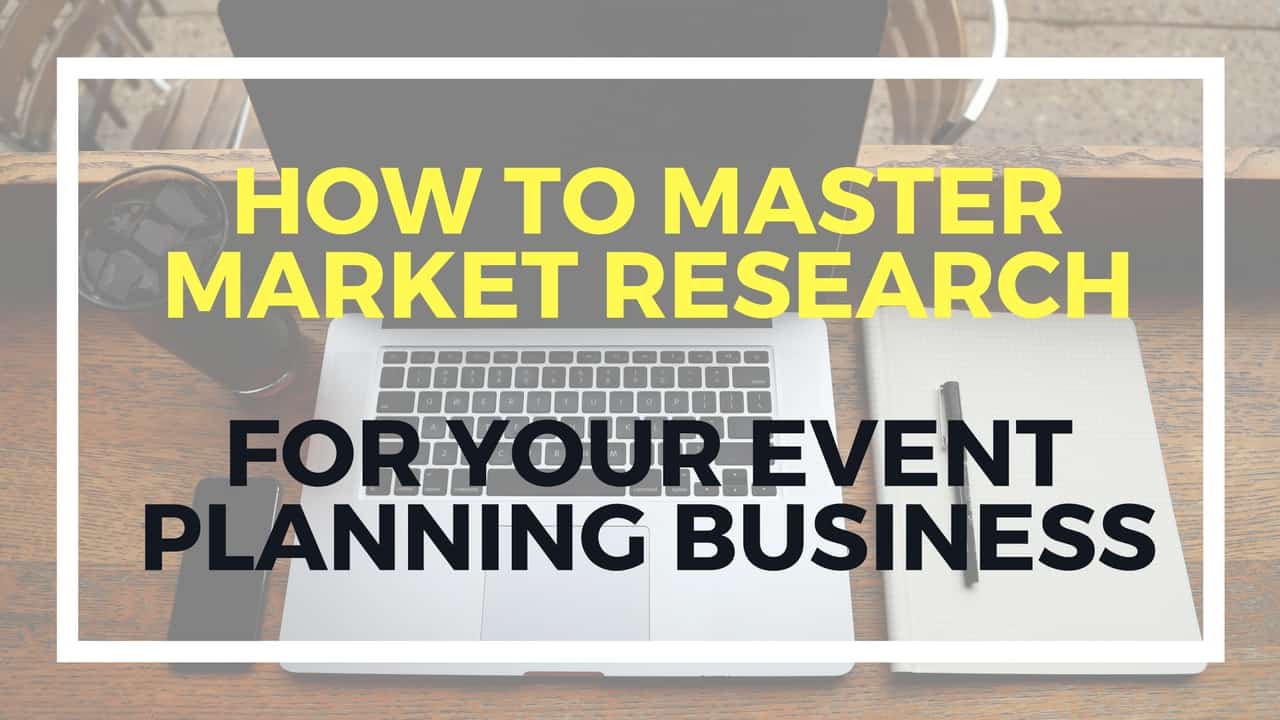 Starting an event planning business is very much like buying a house: You will need to do some research before taking the big plunge and conducting your market research is just an orderly way of learning about the people who will be buying from you or might buy from you. Essentially you want to figure out if there's demand for your service. Doing your due diligence can mean the difference between success and failure, and it doesn't have to cost you a penny.
Why is this important?
You want to sell people, what they want to buy. I know it sounds obvious doesn't it? Market research is crucial in helping you discover what people want.
Who should conduct market research?
EVERYONE, and I cannot stress this enough. All businesses, big, small, old or new need to conduct research before diving into a new market or product. Even if you feel you already have an idea of who your customers are, your research may reveal new information you never thought of including.
Where do you conduct this research?
The great thing about living in our wonderful age of technology is that you can complete your market research from the comfort of your own home if you have access to a computer and the internet. You could also complete this close to home if you do not have immediate access to these resources, such as at your local library, college or university. Your government offices and Chamber of Commerce are also excellent places to begin your search.
How do you conduct your market research?
You will need to come up with a business idea and once you have that concept in mind your next step will be to determine if this idea is viable.
Download our free market research worksheet that
will walk you through the process of evaluating your business idea and recommending practical next steps depending on the result of your research.
To
help you conduct your research and
figure out if you should go ahead with your business idea, you need to ask questions
such as
:
Is the market saturated?

Does your city really need another

event planner

?

How much money is spent in

the events

industry each year in your area?

Is there room in the market for one more

event planning

business?

What licenses or permits will be required?
These questions will allow you to focus your thinking and potentially customize your concept to ensure your idea will work.

You will also need to explore your competition:
What's the competition doing?

What do they do well?

What do they do poorly?

What's unique about them?

Can you offer something different that'll encourage c

lients to use your services rather than theirs

?
Most importantly you will need to identify your target clients and how accessible they are.
Can you reach your target audience?

For example, if you're

providing event planning services for brides with a budget over $100,000,

are you

located in an area with a

population of the right age and disposable income?
These and other questions outlined in the free worksheet will allow you to better evaluate your idea, and you do not even need to hire a professional. To collect data on your industry visit the census website for your country, your chamber of commerce and other industry sites that will provide key statistics to help you complete your research.