Trying to book more event planning clients? As an event planner with an online presence, it's essential to have an email list and an opt-in or lead magnet on your website. By collecting the email addresses of website visitors, you can stay in touch with potential clients who are considering your services for their event, even if they don't immediately reach out to schedule a consultation. Despite its ubiquity, email is a powerful communication tool that should not be underestimated in your marketing efforts.
The process will look something like this:
In my experience, most Event Planners are vaguely familiar with these steps. But they might not have a strategy in place for when that person does join their mailing list.
This part is where the actual magic happens.
Once a potential client signs up to your list, this is your opportunity to convince them of why they should hire you. To do this, it goes beyond sending them promotional emails with discounts and other offers, or even a boring newsletter updating them on your business.
You will need to provide them with VALUE.
The key to turning a potential client into an actual client lies in your Email List Welcome Series.
This is a series of 3-5 emails sent to potential clients when they join your list, that tells them more about how you can help them solve a problem.
Here's a quick first welcome email example using Zapier, one of my favourite blogs on the internet:
The purpose of the welcome email series is to introduce a potential client to your company and service, solve a problem they have, share content that is relevant to their event planning process, as well as highlight your expertise and why they should book you.
You can setup this welcome email series through an email management system such as Flodesk or MailChimp. Both programs also allow you to automate your emails so they can be automatically sent to new clients when they sign up for your list, and you don't have to do that manually.
The big question however is, What emails should you include in this series? I've outlined below the three most effective welcome emails that will help you to book more event planning clients.
1. The Welcome and Thank You Emails
Depending on how a potential client joined your list, for example, let's assume you are a wedding decorator in Atlanta and they signed up for a free download on your website. This email will first provide the item to be downloaded. It will also thank the client for signing up and provide them with a quick overview of what to expect as a member of your mailing list.
Example:
Hi Sarah,

Thank you for requesting a copy of "10 Questions to Ask Before Booking a Wedding Venue". You can download the checklist below.

Download Checklist Here.

Here at the Event Certificate, we work with brides like you to simplify your wedding planning process.

Over the next few days, you can expect to receive a couple of emails from us with tips and recommended tools we think you might find useful as you prepare for your big day.

If you ever have a question, feel free to give me a call at 555-555-5555, or schedule a quick meeting here.

Jody-Ann
Need to download a complete list of emails to send to new and lost leads? CLICK HERE.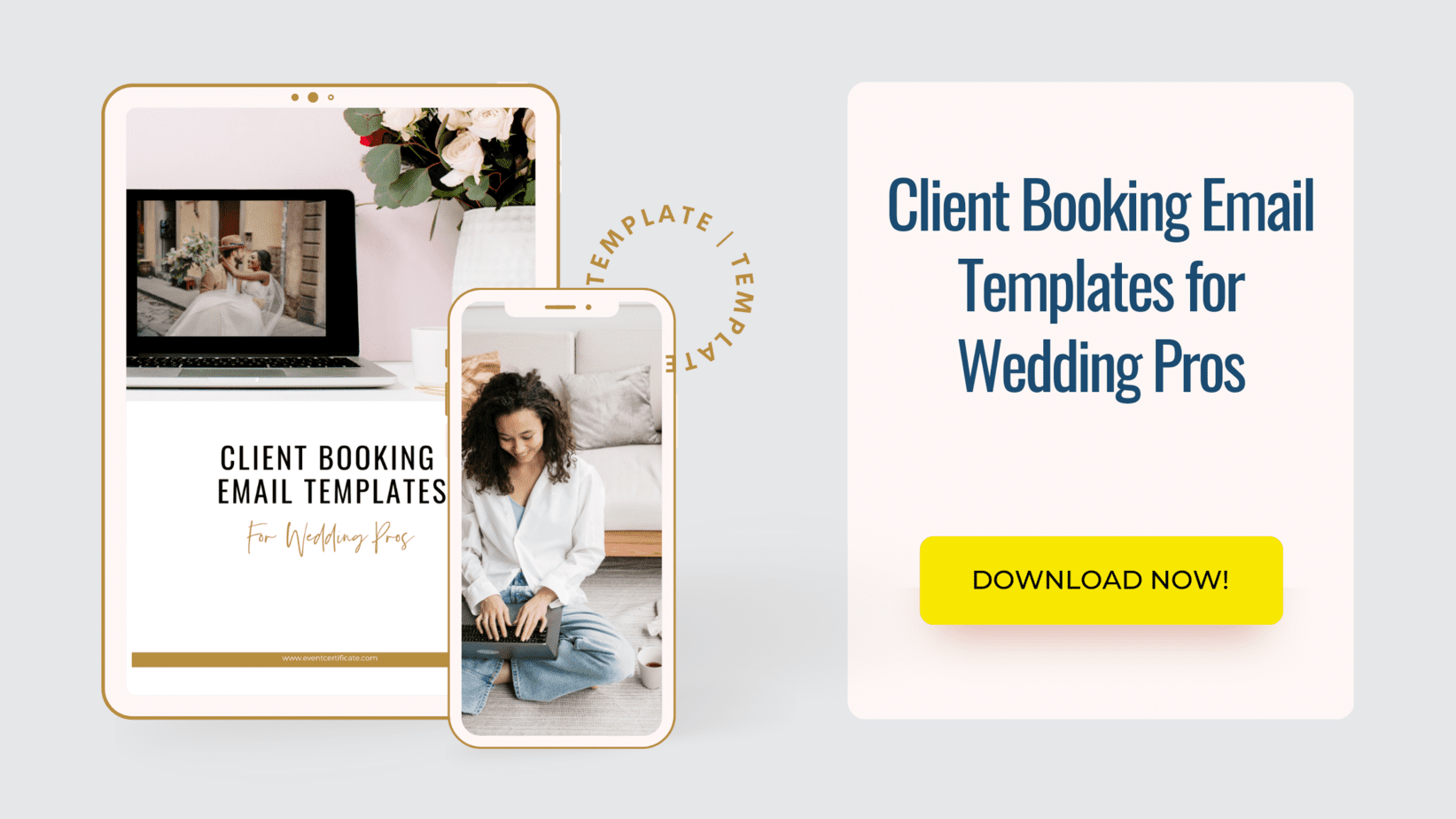 2. The Problem and Solution Emails
Use this email to show your potential clients the extent of your knowledge and expertise. This will be another link in the chain of building trust around your company and services.
Example:
Hi Sarah,

I was recently reading a comment on TheKnot.com about Seating Arrangements for Large Weddings and I thought this might be of interest to you as well. In fact, I was intrigued by the idea I recently used with a couple where we used seating arrangements as an ice breaker at their wedding.

My company specializes in working with brides to organize wedding logistics such as seating arrangements and RSVP card collection for their big day. So I've put together a list of ideas that brides can use to solve any seating arrangement dilemma.

You can click here to access the list, and be sure to let me know if you have any questions.

Best Regards,
Jody-Ann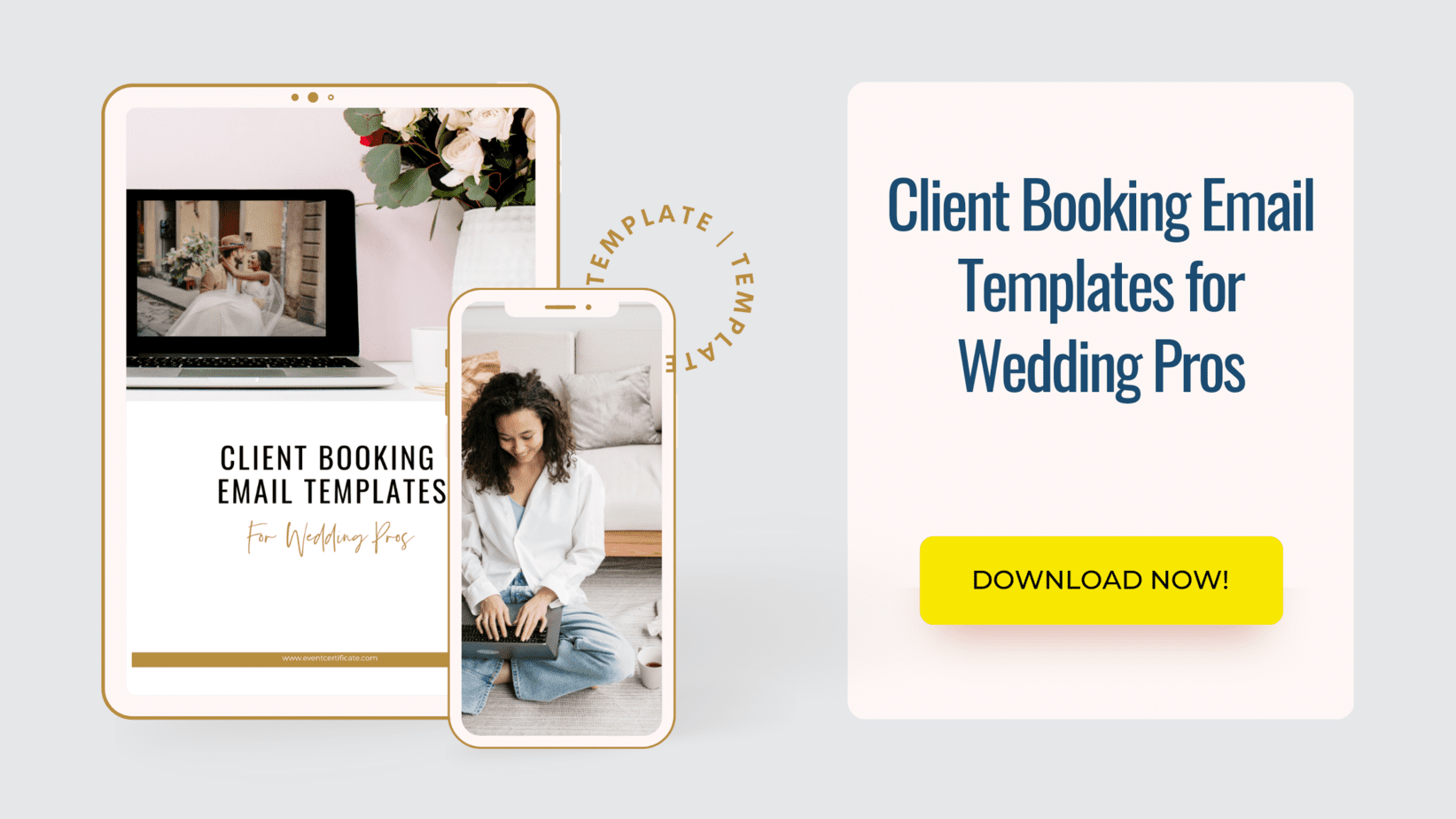 3. The Soft Sell Emails
Once you've welcomed a client to your list and provided them sufficient value to build trust, the next step is getting them to connect with you to discuss their event.
The soft sell is a subtle way of urging a potential client to connect with you to further discuss how your services can help them.
Example:
Hey Sarah,

I've sent you a couple of emails over the last few days and I wanted to reach out to see if you had any thoughts, feedback, or questions.

Have you already booked a venue? If there's anything in particular that you would like to know before signing a venue contract to ensure you're not paying the dreaded "wedding tax", be sure to let me know.

Here's a link to my calendar: https://www.eventcertificate.com/contact/. Please do not hesitate to schedule a free consultation with me to ask any wedding planning questions you have. Speak soon.

Cheers,
Jody-Ann
Need to download a complete list of emails to send to new and lost leads? CLICK HERE.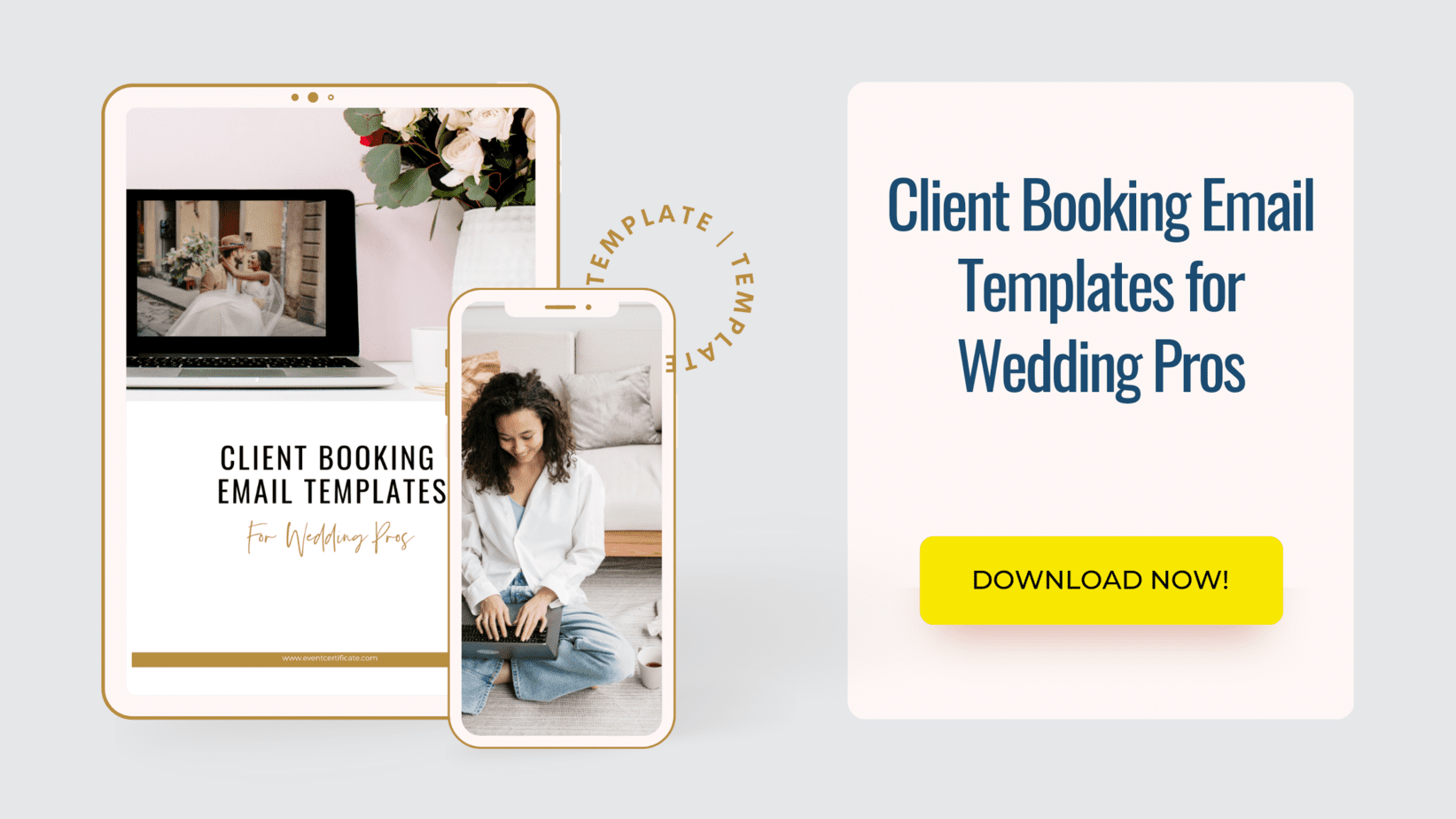 Conclusion: Book More Event Planning Clients
The most important part of having an automated welcome email series is ensuring that it doesn't come off like a sales pitch to a potential client who doesn't know you. The purpose is to nurture that lead and provide them with enough value and incentive to make an informed decision about why you are the best event planner for them.
If you need more help leveling up your marketing to book more event planning clients, be sure to also check out our course library of free and paid training to get you started.