In order to start an event planning business successfully in 2023, it is important to carefully plan and prepare in advance. To help you get started, here are 5 practical tips:
1. Get your business foundation set up
This means setting up all the foundational items your business needs to be officially considered legal. This includes naming your business, getting your business registered, obtaining a business license if needed, and setting up a business bank account.
When you're new to the industry it's important to review the basic business foundations needed to ensure your business is compliant. This will be different depending on your location. Check with your local government offices to confirm what is needed to register your event planning business and obtain a license.
Here are four key questions to ask before registering your business:
Is your business name available? Meaning has it already been registered by someone else?

Your government offices will provide you with an option to search and confirm.

Will your business be a sole proprietorship or a limited liability company (LLC)?
Will you need a tax ID?

This will depend on the business structure you choose.

Do you need any licenses or permits to operate?

Depending on your location this will vary. As an event planner, you might not need a permit for your business unless you have a physical location, but this will be required for some events. FOr example planning festivals or other outdoor events. It is best to check with your state or city offices to confirm.
Do you need a business bank account?
Once you have your event planning business registered and legal, it's time to open a business bank account. Even if you don't have any clients as yet, it's best to create a process from the beginning for clearly identifying personal expenses vs business expenses.
Here's why you should open a business bank account:
Opening a business bank account can help you manage and grow your business with ease. Especially companies that are LLC are required to open business bank accounts.
When you separate your business and personal account, you can better understand how your business is doing financially. You'll have an idea of exactly how much money your business has, which helps you create an accurate budget and cash flow recording.
Tracking income and expenses is difficult when you keep your funds together. But when you open a business bank account, you can more accurately use your bank statement to create a paper trail. And, you can compare your accounting books to your bank statement through a monthly reconciliation process without having to weed through your personal expenses.
If you claim business tax deductions, you need to have records backing up your claims. Mixing personal and business finances make it difficult to prove which expenses are business and which are personal, which can lead to issues if you're ever audited.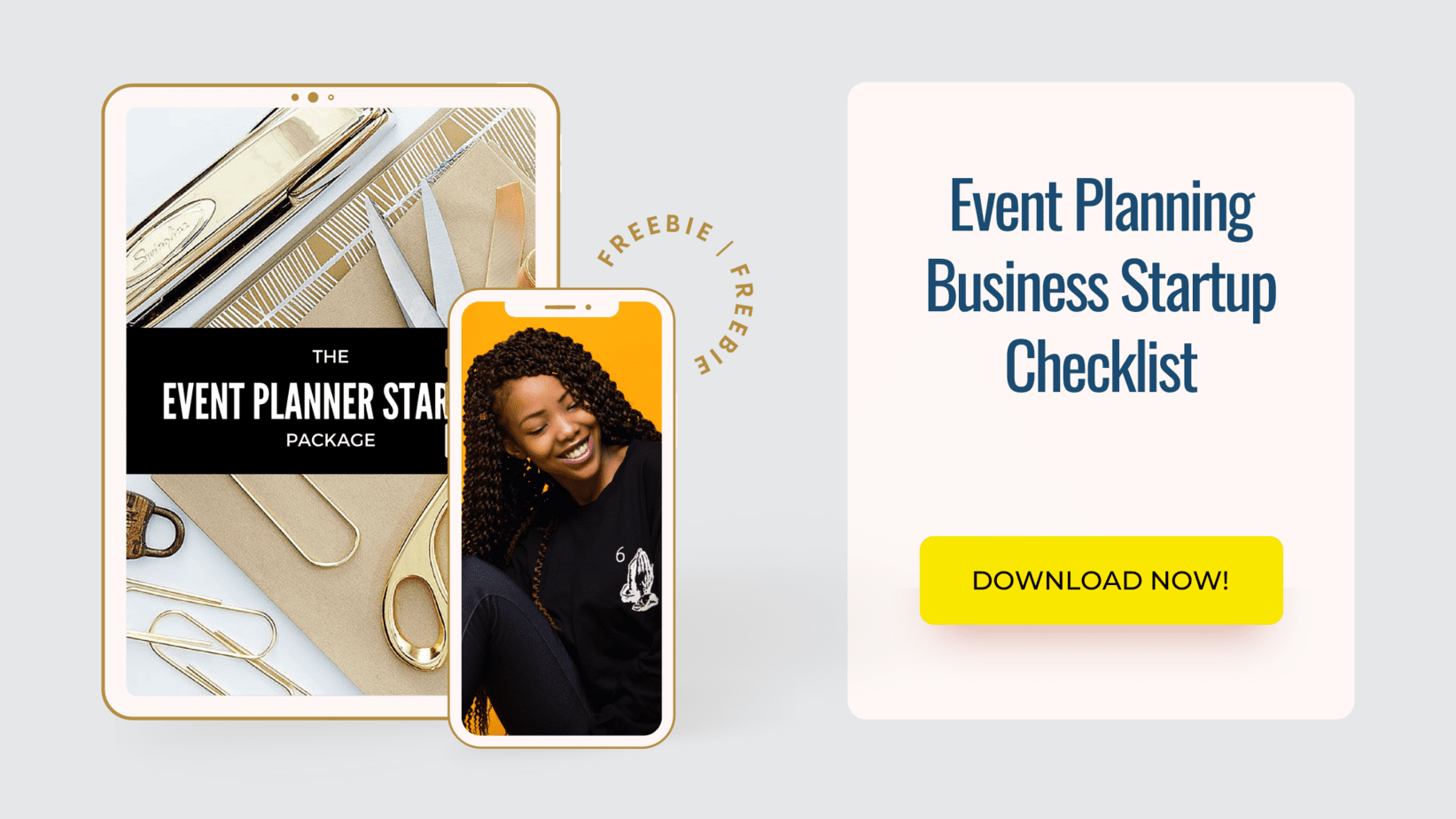 2. Get your online presence started
Once you've named your business, go ahead and secure all your online accounts before someone else does. This includes platforms such as Facebook, Instagram, YouTube, and Pinterest.
Be sure to register all your accounts even on the platforms you don't plan to use, yet.
It is better to be a step ahead, rather than deciding later to use a platform and realizing that your business name is already being used by someone else.
Which social media platforms should event planners use?
The key to choosing the best social media platform is to do what makes the most sense for your business. Social media is not one size fits all.
That being said there are some platforms that will work best for event planners because they are more visually, allow you to share pretty images and helps you to showcase your work. These include:
This is also the time when you want to get a domain name for your business and set up a website, I highly recommend BlueHost and WordPress, but if you're not tech-savvy you might look into platforms such as ShowIt or Squarespace that are easy to use and also allows you to optimize your website for search engines.
According to FitSmallBusiness.com you can register a domain and have a website up and running in just 6 steps:
1. Choose your registrar or web hosting service: Remember to check their hosting policies and pricing. Read the guide of the best domain registrars for small businesses.

2. Search for a domain name: Your chosen registrar should have an availability checker, such as the one from BlueHost, which you can use to determine if a domain name is available. The advantage of the availability checker is that it will give you suggestions for alternative domains if yours is already taken.

3. Fill out the forms: Expect that you will be asked for your personal information and contact details to complete your profile for the public "WHOIS" database. Choose whether you want your profile to be public or private by opting in or out of domain privacy.

4. Pay for your domain: Prices for the domain names will come up during the availability check but will generally range from free to $20. Depending on the web host or registrar, you may be able to get a domain for free by purchasing a web hosting plan.

5. Link domain and website: Using the domain manager, connect your domain to your website; this will require entering host server information if you haven't purchased your domain and web hosting from the same provider.

6. Confirm your domain is live: Once you've logged into your content management system (CMS) and designed the beginnings of your website, be sure to confirm it is live under your purchased domain. To do so, open a browser window and type in your domain. To view it like your visitors do instead of the logged-in version, be sure to open an incognito window.

www.fitsmallbusiness.com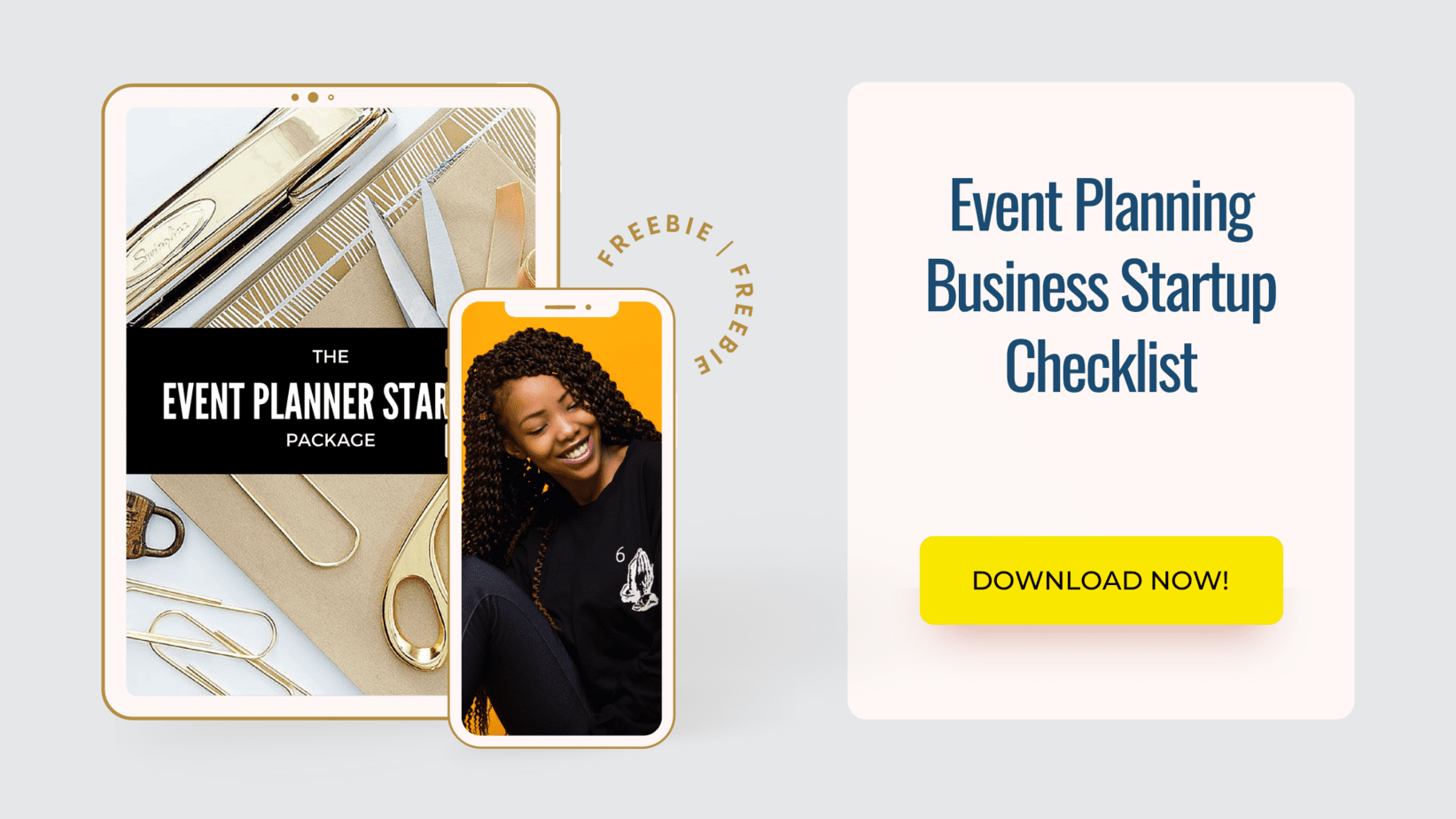 3. Get your Business Tools
As you start working with clients it is important to have all your business tools in place. These are your client relationship management (CRM) programs and templates that will assist you with: booking clients, sending contracts, collecting payments and documenting the timeline and due dates when working with clients.
Why do I recommend a CRM this early in your business?
When you start working with clients this can be more difficult to implement. I highly recommend setting these up before the clients start rolling in to help get your processes streamlined before your feeling overwhelmed.
Some client relationship management (CRM) programs to consider for your event planning business includes:
How do you select the best CRM for your business?
Ease of use. The best CRM tool is the one you and your staff are actually going to use. Is it visually appealing and easy to navigate? Or does it look like something designed in the 90s?
Customization. Every event planning business is different. Explore whether your selected CRM has customization options for branding, sales, and your workflow.
Reporting. A good CRM tool allows for detailed reporting across a variety of data. Analytics are important!
Automation and integrations. Can the CRM automate tasks for your business? Can it integrate with your other programs such as email, accounting, and marketing platforms? Choose a CRM with automation features built-in or that can integrate with a program such as zapier.
Templates I Recommend for Starting your Business
The following are a few templates that I recommend having in place when you start your business to make the process of working with clients easier.
Brochure
Price List Guide
Contract
These and other templates can all be found in the Event Planning Templates Shop.
4. Create an Event Planning Business Portfolio
If you're a new event planner your portfolio is everything. This means images that showcase what you're capable to impress potential clients. If you've planned past client events, be sure to use those photos to market your business!
If you're starting a business and don't have any images, volunteer to plan events for your friends and family so that you can use the images to market your business.
Pro Tip: Hire a professional photographer. While family events are great, they only work if the images are high quality and professional.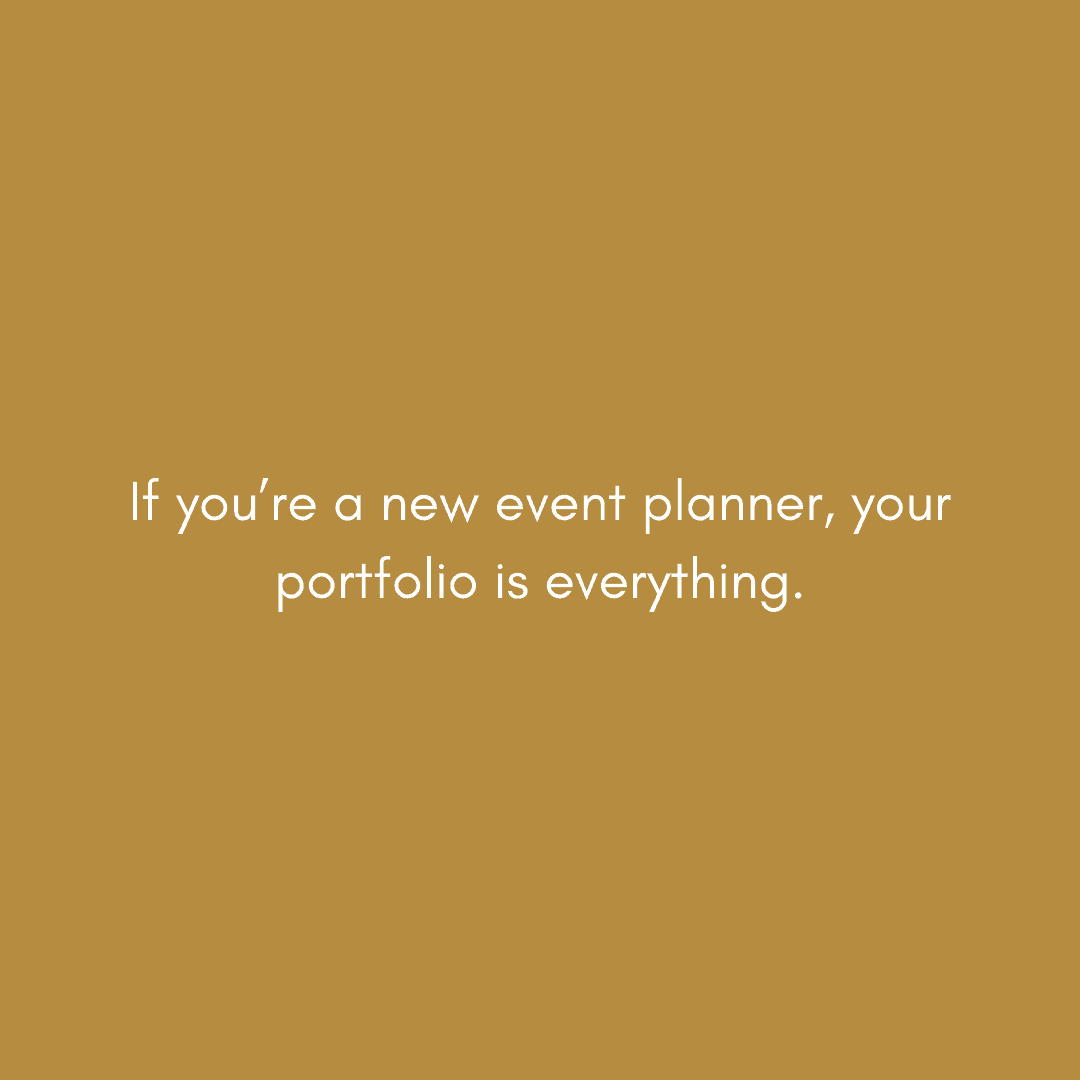 The other option for showcasing your skills if you don't have a portfolio is to set up a styled shoot. Here are 5 tips for planning a styled shoot:
Start with a goal for the shoot and create a plan to achieve it.
Brainstorm ideas/inspiration on what you would like to see and the style or theme you would like to have for your shoot.
Build your team of collaborators. This includes baker, venue, photographer, stationery designers, florists. Make a list of everyone you need to help execute your vision.
Find a location. The venue is one of the most important parts of your styled shoot as this is where you'll be setting everything up. Choose a location that reflects your brand or that you can set up to suit the theme you selected for the shoot.
Create a schedule. Having a timeline that all your collaborators can follow, will make the day of the styled shoot easier. While there is no guarantee that everything will be perfect, having a plan in place to reference will help to keep you on track and know when you are behind or ahead of the schedule.
5. Market your event planning business
To ensure the success of your event planning business, it is crucial to aggressively market your services. While creating a website and social media presence is important, it is also essential to understand the needs and preferences of your target customers and effectively communicate how you can meet those needs. Without effective marketing, even the most skilled event planners risk becoming invisible to potential clients.
Here are some questions to ask yourself when marketing your business:
Do you know what your customers want?
Do you think your customers trust the quality of the service you provide?
Where are customers finding or learning more about your business?
The answers to all these questions lie in marketing.
How you market your business determines if your business will be successful or not. Without it, your business is likely to close down due to a lack of bookings.
Marketing is also how you differentiate yourself from your competitors.
It's clear that marketing is crucial for event planners, as evidenced by the many event planning businesses actively promoting their services on social media platforms. To stand out in a crowded market, it's important to engage in aggressive marketing efforts. But remember, you don't need to compromise your professionalism or integrity to effectively market your event planning business. Instead, focus on researching the needs and preferences of your target market and finding ways to deliver an exceptional service and client experience. This will not only help you gain a competitive advantage but also establish trust and credibility with your clients.
How to win at marketing your event planning business:
If you successfully educate customers, keep them engaged, create a strong reputation in their minds, and smartly sell to them, your business will most likely do well. But here are 6 tips to follow:
Identify your target market: Understanding the specific needs and preferences of your ideal clients will help you tailor your marketing efforts and messaging to appeal to them.
Create a strong brand identity: Develop a clear and cohesive brand image, including a logo, color scheme, and tone of voice, to establish yourself as a professional and trusted event planning business.
Build a website and social media presence: A website and social media accounts are essential for showcasing your services, portfolio, and customer reviews.
Utilize content marketing: Create and share valuable, relevant, and consistent content (such as blog posts, videos, and social media posts) to attract and retain a clearly defined audience.
Network and collaborate: Attend industry events, join local business groups, and seek out partnerships and collaborations to expand your reach and build your reputation.
Offer excellent customer service: Provide exceptional service and attention to detail to your clients to generate positive word-of-mouth and repeat business.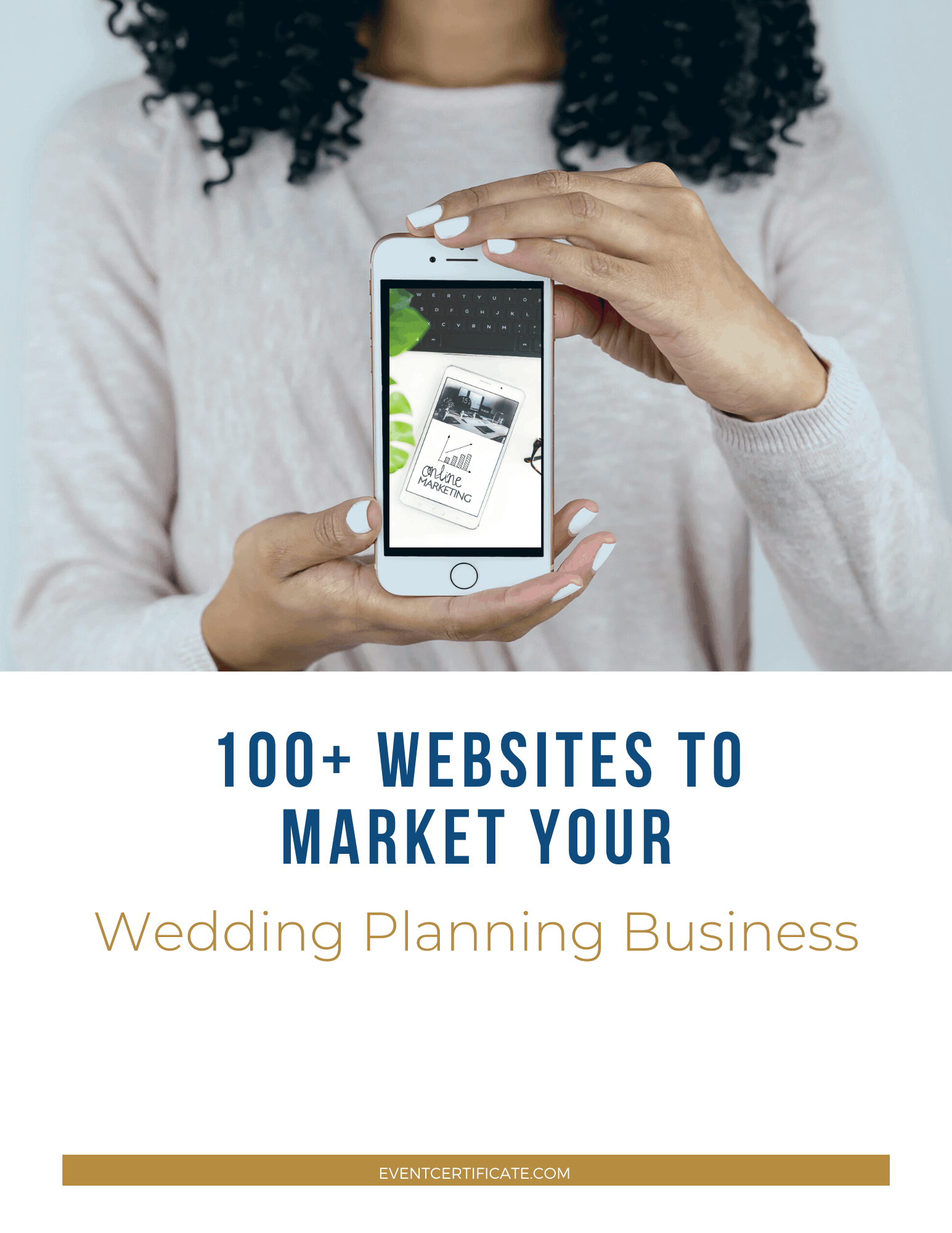 Conclusion: Event Planning Business
Starting an event planning business, like any business, requires a combination of time, patience, and strategy. From establishing your business legally to acquiring your first set of customers, every aspect of your business is interconnected. While it may seem daunting, it is not impossible. The key to success is to have a plan in place and take things one step at a time, consistently implementing helpful tips and strategies along the way.