An event planning proposal is key in winning over potential clients who are considering your event or wedding planning services.
Your proposal will help to convince clients that you are the best planner for their event and that you will be providing exactly what they need.
I'm breaking down the 5 most important pieces of a winning event planning proposal that you don't want to miss. Follow these 5 Ps and you will have no issues winning over clients again and again.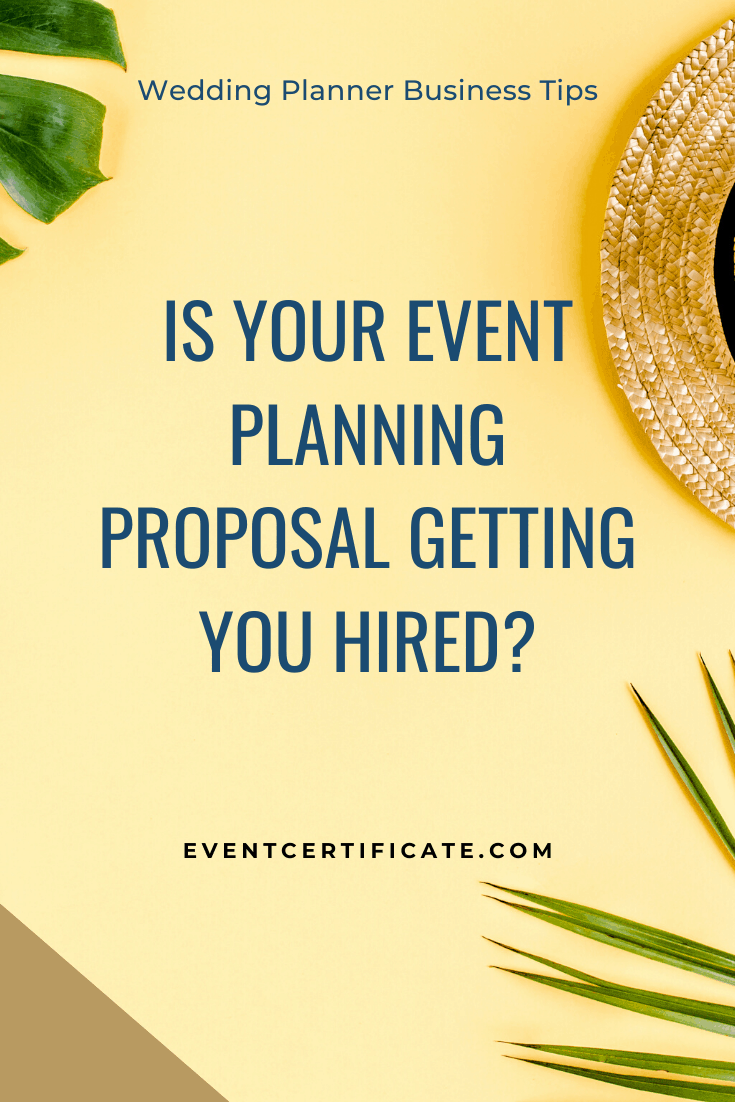 1. People
This is the area in your event planning proposal where you introduce your potential clients to your business and your team. Or if you're a solo planner, this is where you will introduce yourself and why a client should hire you over another planners.
Where most people fail in this area is that they try to focus on the facts about their business. They tell clients they've been in business for X number of years and that they fell in love with event planning when they fell off a balcony and hit their husband in the head and fell in love.
Let's not do that.
Instead I want you to focus on the skills and experience that you bring, and how this will be beneficial to a client.
Instead of:
"We're ABC Event Planning & Design and we've been in business for 20 years. We fell in love with event planning…."
Do this:
"After 20 years serving event planning clients in Atlanta, one of the main things we've learned is that not every is looking for the same event. That's why we work with clients to…."
See what I did there? I was still able to include information about my years of experience, but it was less focused on presenting boring facts, and more on showing the client how these facts are beneficial to them.
2. Process
The second part of a winning event planning proposal is your process. As business owners we often assume that clients know the process of working with us. This could not be further from the truth.
If a client has never planned an event before, for example a wedding, they will have no idea what the entire process is like. Use this opportunity to educate them and win them over.
Share with your potential clients what the process will be like if they hire you. What's step 1, 2 and 3? How do you move the process along to ensure a succcessful event?
Some key things to include are:
The process for hiring you
What happens once they book you
How do you work with them through the event planning process
Do you provide any guarantees?
What are some questions your past clients have had about the process that you can address here?
Once the event is over, what happens next?
What happens if they have questions or changes?
While this is not the time to write a detailed 20-page list of tasks for your clients. It is definitely the place to give them an overview of what to expect, so they can better understand the benefits of hiring you.
3. Packages
The third P in your event planning proposal is your Packages. Here what you should be including are the packages that you are recommending to this particular client.
This is not the time to list ALL your services, unless they are applicable. If a client is requesting a proposal, chances are you've already spoken to them and gotten an idea of what they need for their event.
This is therefore why it's important to personalize your package recommendations for the client. Are they any particular package(s) that you recommend? Why? Outline that here.
The client should be able to read this and have an idea why you recommended these packages and exactly what is included in each.
4. Pricing
The forth P of your event planning proposal is your pricing. Let's face it, your clients will often have a budget they are looking to work within. It is therefore important to include the price for your packages to help them make an informed decision.
Now, you will notice that I pricing was not in my top 3, not that it's not important, but that you should be selling your clients on your services and benefits before the price.
Your price will help clients to understand the value of your services and be better able to make a decision on if this fits within their financial comfort zone.
I am all about transparency in your event planning process, and a huge part of that is never been vague or hiding your prices from clients.
If a client feels uncomfortable with your price, they will either let you know their budget or ask for a lowered price. Then your job is just to work on converting them as needed.
5. Policies
The fifth P in your event planning proposal is your Policies. This is one that not everyone includes in their proposals but is key for presenting clients with all the information needed to make an informed decision.
Here you need to outline you business policies for your clients. Here are some examples:
When is this proposal valid until?
Will you hold their event date until they make a decision?
What's the deadline for responding to you about this proposal?
What are your payment policies?
Do you have a policy for deposits?
What's your cancellation policy?
As you can see these are important questions that potential clients might have and not including these in your proposal could put you at a disadvantage.
Not every client will come back to you with questions, especially if they are reviewing multiple planners. Clients will sometimes hire the planner that provided them with the most information to make them feel educated about their hiring decision.
Event Planning Proposal Template
If you feel stuck creating the perfect event planning proposal, be sure to also check out this template. It outlines all the areas needed to create a winning event planning proposal. You just need to full in the information and your branding.
And if you have questions about creating a proposal, do not hesitate to reach out.