Instagram. Love it or hate it, is an amazing social media platform for wedding planners. But optimizing your posts with eye popping images, award winning captions and the most relevant hashtags – is not always easy.
Today I'm sharing how to fix one of these, and I promise these three tips will forever change your hashtag game.
1. Research your Hashtags
Hashtags are essentially Instagram's version of keywords, and it's important to get them right. The hashtags that you use will either bring you the exact type of customers you want to work with or have your posts sitting pretty without any views or likes.
The best way to find your perfect hashtags is to start on the platform where they originated. Think about the type of hashtags that your potential clients might be using and then research if they would be relevant to your business.
For example, Some wedding planners will often use "#weddingplanners" on their posts.
While this keyword is relevant to your business and your industry, it might not be exactly what your potential clients are searching for.
Just a quick glance at the hashtag below reveals a couple of things:
This is a high volume hashtag with millions of posts, which means your post will get lost in the noise using this hashtag.
Most of the posts showing up in the feed are from other wedding planners (aka your competition)
This hashtag is unlikely to bring you followers, likes, or engagement unless it's from other wedding planners like yourself – who are not your potential clients.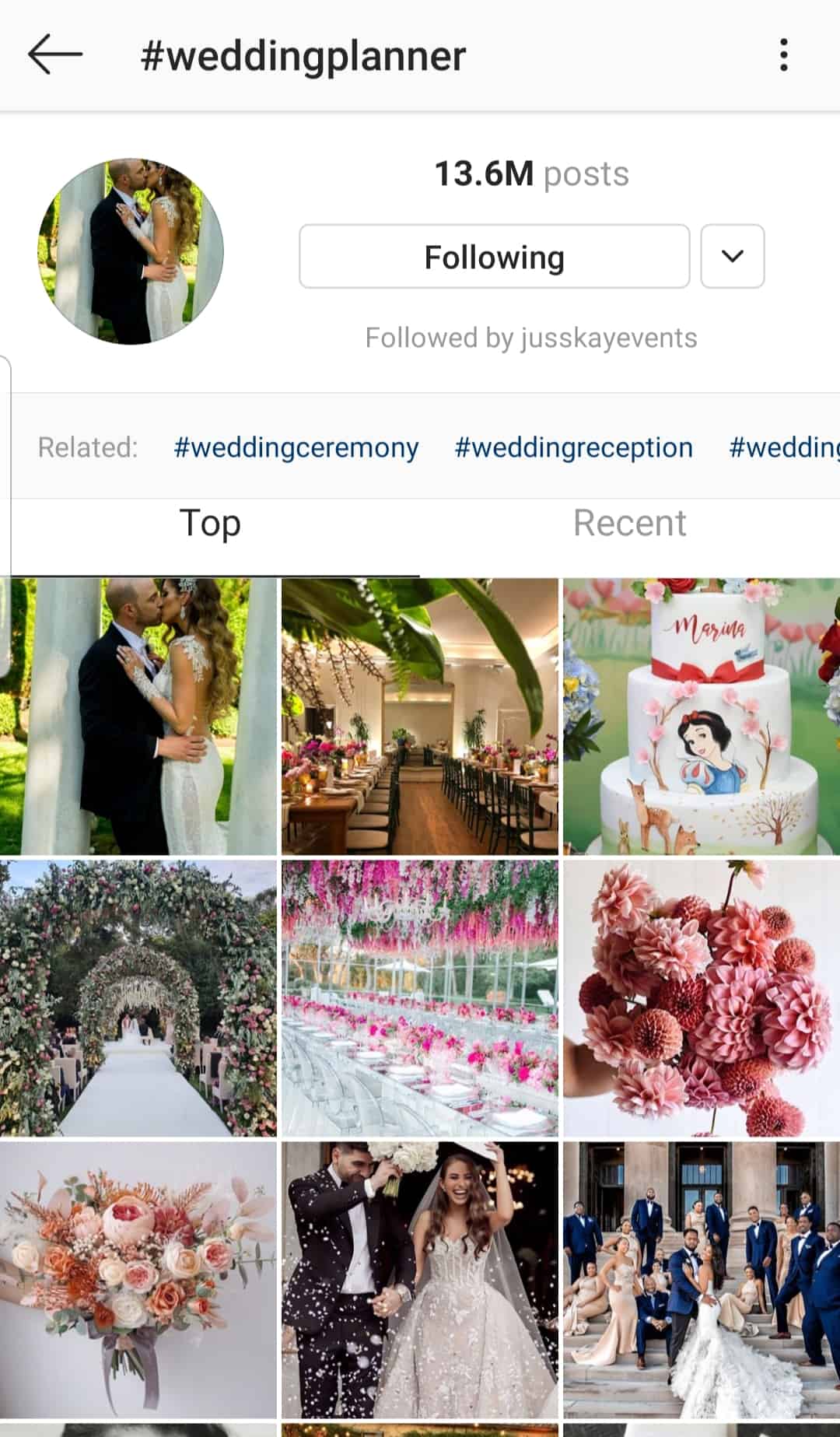 2. Think like your clients
Finding the best hashtag for your posts will require getting inside your clients head. As business owners we often look at our content from a business point of view, which is not the seat that your potential clients are sitting in.
Think about where your clients are now, where you would like them to be, and how you can reach them at their current position.
This is a fancy way of saying – How are you clients using Instagram?
If you're clients are about to start thinking about looking for a wedding planner or should be, the major life change that they just had would be an engagement.
This means that they would be on Instagram announcing their engagements, posting pretty pics of their proposal, their ring, the story of how they met etc. And do you know the hashtags that are usually associated with those posts? It is NOT # weddingplanner.
You potential client hashtags are more likely to be:
#justgotengaged
#IsaidYes
#MstoMrs
#HeAsked
#engagedAF
Now let's take a look at the hashtag #justgotengaged below. A quick glance on the feed reveals a few things:
The total number of posts is less than 50K, which means your post will have a greater opportunity to be found.
The feed is full of couples sharing their engagement rings and proposals – aka your potential clients
This hashtag is more in line with what your potential clients would be using when they are newly engaged and about to start wedding planning. This is known as the zone where you want them (and yes, I just made that up).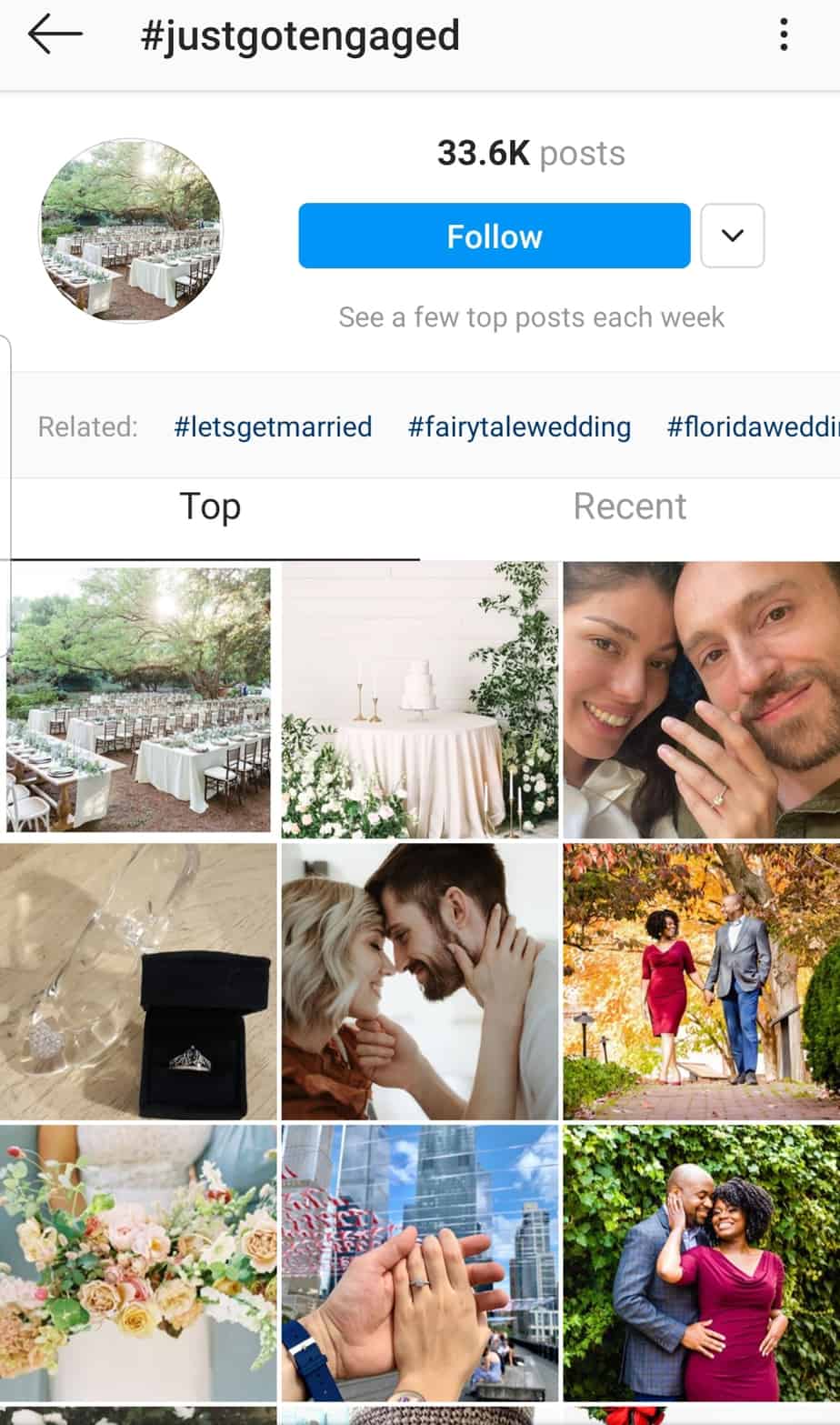 3. Diversify your Hashtags
One of the most effective ways to show up in your potential clients feed is to hit them from all angles. What do I mean by that?
Your potential clients might be engaged and are about to look for wedding planners, so that means you should be using engagement focused hashtags. But the length of time that you potential clients are engaged might be different. This means that they will be in different seasons.
There are three main seasons that you need to account for as follows:
Newly Engaged – These potential clients are just engaged and celebrating. Here it is key to focus on those hashtags celebrating their engagements and proposals. For example #justgotengaged
Engaged & Looking for Wedding Ideas – These potential clients are engaged and starting to look around for themes and ideas for their weddings. Here is it key to focus on decor inspiration, current wedding trends etc. For example #weddingcenterpieceideas
Engaged & Looking for a Planner – These clients know it's time to hire their wedding vendors and are not sure where to start. This means they will be looking up ideas for the best wedding vendors in their city. Here it's important to focus on your niche and location. For example #atlantaflorist.
BONUS: Hashtags Cheatsheet
After all is said and done, finding the best hashtags for your wedding planning business can be time-consuming. If you don't have the time to put in the research then I highly recommend purchasing a done for you option. Here's a list of  Hashtags For Wedding Planners Template. 
This template includes already researched hashtags waiting for you to plug and post.