This was my second World Education Congress (WEC) since joining Meeting Planners International and I am pleased to say it was even better than the first. While this post may not cover every single moment of this year's event, these were the moments, people, ideas and sessions that made this conference a truly memorable experience. If you were not able to join us at WEC this year, here is what you missed:
1. WEC Opening Night Highlight
The best part of the WEC opening night ceremony was definitely the lineup of unique entertainers. From acrobats to jugglers, every stop provided something different and exciting.
2. Best WEC Keynote Moment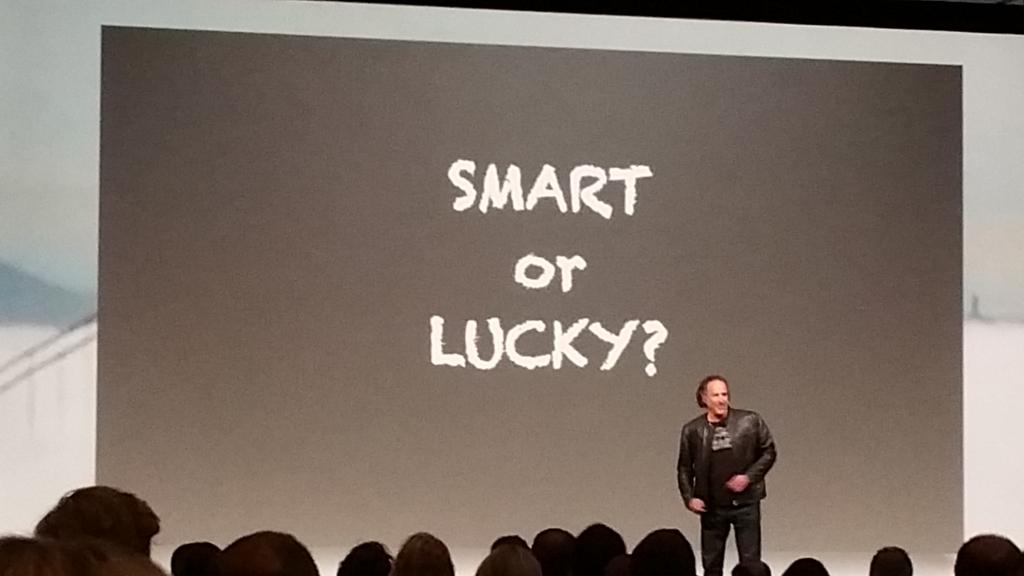 James Curleigh shares his journey from his 4th of July flight into San Francisco to start his new job at Levi's, to making a legacy brand relevant today. James urged attendees to turn moments into momentum. Iconic or Innovative? Smart or Lucky? Why be one or other? We need to be both!
3. Most Engaging WEC Speaker
Beth Ziesenis is my new nerdy best friend. I walked into her first session A Day in the Life of Nerdy Event Planner ready to learn about one, maybe two new apps I didn't already know about. What I didn't expect was to learn about the many, many,many apps that I could be using to increase productivity and efficiency, say no to my boss and cyber stalk potential interviewers (if that is your thing). I also won a copy of her book!
4. Most Enlightening WEC Education Session
Powering Up: Women & Leadership in the Meeting & Event Industry! left me feeling empowered and ready for change. It was also eye opening to hear the commons concerns shared by this room filled with women (and 3 men) in the industry. Do we create our own glass ceilings? Why are we so hard on other women in the workplace? Why do we make each other feel guilty for choosing career over parenthood and vice versa? and most importantly, how can be reshape a workplace structure that was originally designed for men?
5. Best WEC Supplier Discovery
Geoteaming is a company dedicated to creating life-changing adventures, and focuses exclusively on providing Geoteaming™ events. I was rather impressed with their ability to incorporate technology into corporate team building events, and to be honest having 5 QR codes for the WEC mobile app game did not hurt either.
6. Best Business Card
I was particularly impressed with the business card from A Meeting Space. Though the photo might not reflect this, the card was half the size of your traditional business card with all the required information. It created a lasting impression in my mind, which I am sure was the aim of this design. It was also a pleasure to meet the smart and witty owner, Monica Mason.
7. Best Social Event
DoubleDutch hosted a Party Hopper tour for eventprofs and I cannot begin to thank the folks at DoubleDutch enough for this spectacular night. The party started with cocktails and gourmet munchies at the Southside Spirit House, which if not known for anything else features an impressive statement wall of vintage cassettes and dirty Jenga on every table.
After sipping on signature cocktails we hopped aboard San Francisco cable cars on wheels for a guided tour of the city, ending with a breathtaking view of the Golden Gate Bridge (see #10!).
8. Best Local Food Stop
While having my appetizer at this year's preview lunch made by the one and only Chef Guy Fieri was a treat, the local favourite below took the prize.
The highlight for my palate on this trip was definitely the deep fried crab at R & G Lounge in Chinatown. This massive crustacean was a culinary delight. Highly recommended for a shared meal with 1, 2 even 3 friends. Not recommended if you are looking for a healthy meal.
9. Best WEC Supplier Booth at Closing Night
I can say this one with confidence as a passport carrying member of the closing night reception who collected all her stamps. The best supplier booth at the closing night reception was hands down Commune Hotels & Resorts. This booth featured a headset party with rocking beats by their in-booth DJ. Did you see a crowd of people at the WEC closing night dancing with headsets on but you heard no music? This was it. The DJ also took personal requests from the crowd!
10. Best View of the Golden Gate Bridge
The best view of the Golden Gate Bridge definitely goes to this moment while crossing the bridge on a trolley tour during the sunset. A perfect ending to a wonderful conference.
Eagerly looking forward to the next WEC meeting!