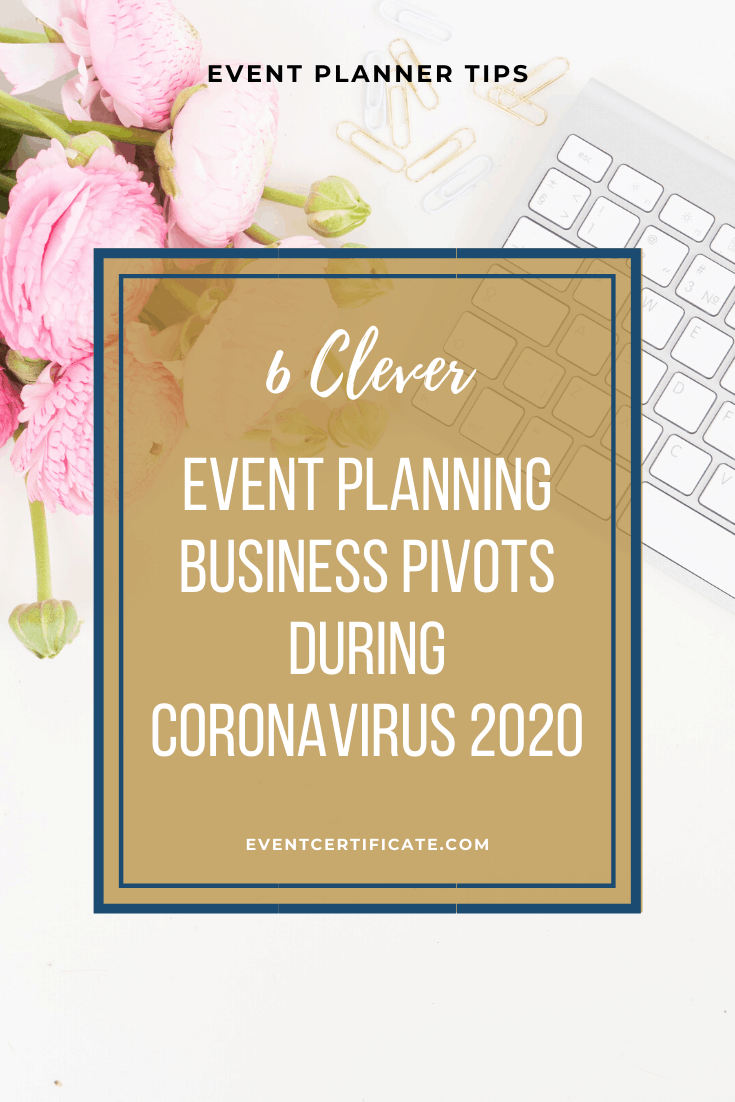 Right now, we all know that the COVID-19 pandemic has affected everyone in the world. Especially as event and wedding planners you might be worried and looking for the best options for managing your business amidst cancellations and rescheduling during this time.
As an event and wedding planning business consultant, my first advice to my clients is to start with research. Find your clients online or offline and look at what they are facing right now. What are they most concerned about at this point?
This will help you to think through how you as a wedding or event planner can adjust your business operations to meet their current needs and everything that is happening during the pandemic.
And most importantly, when this is all over, things are going to change a bit. Think about how will you need to pivot your business to meet that change?
Here's the good news: Weddings are still happening! Birthday Celebrations are still happening! They might not be on the same scale as before, but people are still engaged and parents still have kids celebrating milestones. Think about how your service can still apply to your clients, but on a different scale.
Here are some examples to help:
TIP #1: Repackage your Offer
The first you need to do is research where your clients are and think of how you can meet them there. What do they need most at this moment?
As a wedding planner, you might be used to producing large weddings before the pandemic but chances are, people will not be booking any large weddings right now. If you're a party planner, the same applies. However, what they will be doing is looking for different ways that they can still celebrate.
If you're a wedding planner, that might mean Elopements, Micro Weddings or Virtual Weddings. If you're a Party Planner that might mean contactless birthday packages you can leave at their door.
Please take note: scaling back does not mean to cut prices because of the pandemic!
Don't offer discounts on your packages and don't make an assumption about your client's budget. We all know that things right now are changing with people losing their jobs as a result of the pandemic, the amount of income may not be the same as before but cutting your packages shouldn't be something you should even consider. If you do, you will have a difficult time readjusting after the pandemic. Let your clients tell you what they can't afford or what their comfort zone is.
If you're scaling back the size of your packages, you should also be scaling back the price. The key here is to not scale back your price and keep the packages the same.
Pay attention to the market during the pandemic
In March 2020, Google Trends had registered a double-digit increase of11% in searches for "elopement" and "elopement packages"? Not to mention the term "virtual wedding" which has seen an over 90% increase according to Google Trends.
People are still getting married and are now looking into Elopements and Elopement Packages. How can you take advantage of this?
Maybe you can offer backdrop design and floral arrangements, instead of your full planning package.
For party planners, one thing you can consider is how can you package your services into something you can drop off to your clients? What can you offer that is a scaled-down version of your regular package? Maybe you can offer a birthday-in-a-box package where you can drop off all the party items and just provide them with set up instructions.
TAKEWAY: Think about the reality your clients are facing now during the pandemic and how you can repackage or reposition your service to meet their new needs.
Tip #2: Create a physical product
Another way you can diversify your income is to a physical product. Look into what you can create and how your package that up and sell it on a platform like Etsy.
Here's a trick if you're having a hard time thinking of a product to sell: Have you ever given someone an item, for example, a gift, or created something for an event and received a number of compliments on it? This is your golden ticket.
Browse on Etsy and look around to see what other people are selling, for example, wedding décor items. Take advantage of how you can create something that is beyond your usual event planning business, to bring in an alternate source of revenue during the pandemic.
Tip #3: Create a Digital Product
Digital products are the next big thing in our current situation so start creating something that you can use to serve your clients, even if they are not working with you on an event.
This could be an e-book, a planner, checklist or a wedding timeline. The key here is to think about a tool or resource that you know would be helpful to your clients and make that into a digital product that they could use on their own.
If someone didn't hire you to plan their wedding, what's a resource that you could still provide them with to help them with their planning process.
Tip #4: Affiliate Programs
What are affiliate programs? These are essentially promoting somebody else's product or services and receiving a commission or a percentage from the sales when someone purchases using your referral.
The first and easiest step to getting started as an affiliate is to look at the current vendors and suppliers that you work with and see if they have affiliate programs. And if they do, check if they are accepting new affiliates and sign up for them!
However, if they don't, then think about all the other things that your clients would usually purchase and look for available affiliate programs for these items/services.
One example wedding and bridesmaid dresses are currently on sale right now. Have a look around the websites for these companies and see whether they have an affiliate program. Apply and when you get accepted, promote their products that would be relevant to your audience, and earn a commission.
Note: Affiliate program links can usually be found at the bottom of a website in the footer area.
But how does this work for you as an Event Planner?
Once you sign up and get approved to become an affiliate, you will be given an affiliate code or affiliate link you can use when you start promoting the product/service. You can do this by sharing a photo of the product in your blog posts with a link, or even on your social media accounts. Then when someone purchases using your link, you get a percentage of the sale as a commission! It's really that easy!
Here are some stores that are offering affiliate programs in the wedding dress and decor space that you might be interested in:
Another thing to look for as well is jewelry. People might still be interested in getting engaged and might want to order rings or gifts. Look at jewelry companies and see if they also offer affiliate programs. Here are some jewelry stores that offer an affiliate program:
Tip #5: An Online Course
Now more than ever is the best time to monetize your knowledge! Have you been in the industry for a few years? Whether you're a wedding planner, a corporate planner, caterer, florist, venue owner or baker etc., think about whether you are ready to teach people how to do exactly what you do.
Take note: If you've been in the industry for one year but still struggling to find clients, then I would not recommend starting a course.
First, ensure that you're in the right spot and actually have the right knowledge, experience, and expertise to share with someone, where they can take away something useful from the program and apply to their own business.
If you're looking for support creating and setting up your online course, I have a program specifically for that: Visit www.weddingindustryeducators.com to learn more.
Through this program, we work together one on one to put your course together from beginning to end. We design your curriculum, content, worksheets, video editing, course platform set up, and marketing – the whole package.
All you need is a course idea and we can help you with setting up the tech and getting your content ready. All you need to do is record your videos!
Tip #6: Host a workshop
Now that events are being canceled and you have fewer items on your calendar, think about if you can host a virtual workshop (or in-person once the pandemic is over) for brides-to-be, parents or whoever your target clients are at this time.
Do you have a skill that can be taught in a class? Maybe you can instruct a class on how to create something such a floral arrangement, centerpieces, wedding arch, DIY souvenirs, etc.
One way to get an idea is to look at Pinterest tutorials and see how you can create something similar or better.
Got questions? Send me an email.